Local Historical Weather Events and Facts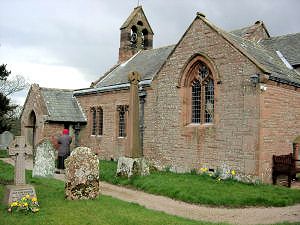 CLIBURN
ADDITIONS MADE:
08.11.12. - Thunderstorm at Cliburn in November 1962.
Cliburn is a small village situated in the Eden Valley between Penrith and Appleby. The name Cliburn means 'stream by the bank', the stream being the river Leith which runs through the meadows at the foot of the hill on which Cliburn is built. The main street runs downhill from north to south and is lined with attractive sandstone buildings, the stone for which would have been quarried in the nearby Whinfell Forest. Hidden in the forest is Center Parcs Holiday Village.
In comparison to the other villages included in this section, Cliburn is the driest, sitting the furthest north and of all the villages, with a gradual increase in rainfall totals as we move further south.
The earliest record that I possess for Cliburn is from 1902 and once again comes from the Rainfall Guides and concerns a Mrs. Burton from Cliburn Rectory. In the 1902 edition she is shown as a new observer for that year and in the 1908 edition she is shown as 'Lost' for this year. Lost could simply mean moved away, no longer recording, etc, but no actual reason is given.
These figures seem very much on the low side, especially when compared to those at Morland and especially when we move forward 1929-1934 when next a rain gauge was in the village.


		1902	1903	1904	1905	1906	1907		MEAN
									
Inches		24.96	43.24	25.56	22.49	31.67	29.32		29.54
									
   mm		634.0	1098.3	649.2	571.2	804.4	744.7		750.3



CLIBURN SCHOOL
In the period 1929-34 a rain gauge was sited at Cliburn School and this was a 5" gauge set at 1ft above the ground, the observer is listed as L.S. Chapman esq.
In 1932 the gauge is shown located the 'Council House', but is back to the school in 1933, before it is moved to Bongate Hall in July 1934, with Chapman still shown as the observer.
The details are:


		 1929	  1930	    1931      1932	1933      1934	      MEAN
								
   MM's		1002.8	  1089.2    833.6     1016.3    644.4     828.8	     902.5
									
Rain Days	  149	   188	     191        173	 130       156	     164.5
								
 Wet Days	  125	   159	     144        130	 113       130	     133.5


In 1930 the children of Cliburn primary school performed a 'Parish Survey', (this been kept in the county archive at Kendal Ref' WDS 58/21) and this survey included rainfall. The survey was also of the number of inhabitants of the village, number of fields and to what use, type of crop, etc; the results are shown below:


		Jan	Feb	Mar	Apr	May	Jun	Jul	Aug	Sep	Oct	Nov	Dec		YEAR

 INCHES		7.5	0.2	3.4	2.1	1.8	1.4	4.2	6.7	2.3	4.9	3.8	4.4		42.88
															
															
   MM's		190.5	5.08	86.4	53.3	45.7	35.6	106.7	170.2	58.4	124.4	96.5	111.8		1089.1
															
															
Rain Days	 23	 3	 13	 20	 12	 12	 16	 22	 16	 26	 13	 16		  192
															
															
Wet Days	 20	 3	 13	 10	 9	 9	 14	 20	 14	 22	 11	 14		  159

The children completed graphs to show the monthly rainfall, this being shown in tenths. So for such as the 7.5 inch for January this cloud easily have been 7.53 inch for example and hence the reason why the annual total of 42.88 inch is not the exact sum of the 12 months totalled up.
One interesting aside is that at the side of the graphs the yearly totals of 42.88 inches, 188 rain days (days of 0.01 inch) and 159 Wet days (days of 0.04 inch) is listed. When I total up the monthly rain days as hard as I try to get it to equal 188, it always adds upto 192! The rainfall guides have 188 listed so I would use this figure, but whereabouts the mistake was made I'm uncertain.
But nonetheless it is fascinating to see and I have no problem in believing its accuracy.
The mean fall for the six years of 35.53" compares very favourably with the 37.2" at Morland for the same period and is what I would have expected. One question though, what happened to the gauge after 1934?
November 1962 - Deadly Thunderstorm
Taken from 'The Cumberland and Westmorland Herald' on 3.11.2012. - their 'This week in history' section from 50 years ago
'Seven cows belonging to a North Westmorland farmer were killed by lightning in a thunderstorm. Mr. Paul Lancaster, Shaw House, Cliburn, discovered his loss when he went to take in his herd for milking.
The thunderstorm also cut electricity supplies to many villages in the Eden valley. The annual police ball at Crosby Ravensworth was completed by the light of flickering candles and a paraffin lamp after the village hall was plunged into darkness.'
&nbsp
&copy Darren Rogers 2012
Want to comment on this site or do you have any information that you would like to see included on this page? Please contact - email